Best 10 Place Must Visit in Bali
Many people say that Bali is overrated, too touristy and not worth to visit. I guess it really all depends how you would enjoy Bali. Not only that it has been popular in it's own right, with post eat, pray, love, is there still the Bali that started it all?
Regardless, as time has passed, and places may have grown, yes Bali is still what it is somewhat but not quite. If you can look past the many tourists especially during peak season and instead of scorning, enjoy instead the many little business dotted around specifically to cater to tourists, you might just fall in love with Bali.
Bali deserves still the attention it is getting, just to list the Top 10 must visit places is enough to see why you should still travel to Bali.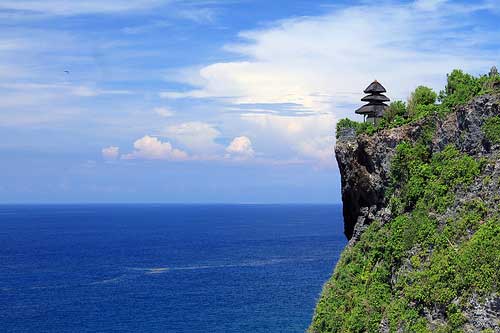 Uluwatu Temple, Pura Luhur @ Bali
Imagine a large rugged limestone cliff with a temple perched on it, almost like a scene from cliffhanger, to add to it's dramatic grandeur. It is situated in the island commonly known as Bukit Peninsula, where it also include Bali's few best beaches like Balangan and also has many good surfing spots. The temple is itself a majestic structure, constructed and expanded by many famous safes since in the 11th Century, it perched at the steep cliff of 70 meters above the Indian ocean. If you go even higher grounds nearby, you will be rewarded with breathtaking view of either side and sunsets over Uluwatu temple itself.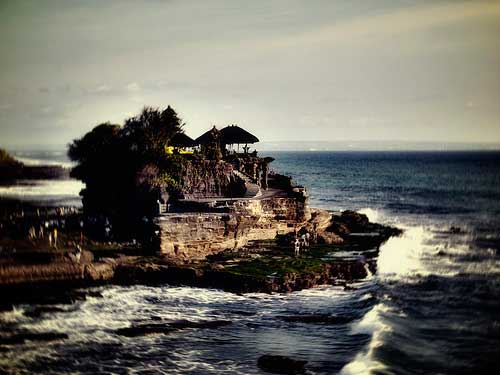 Pura Tanah Lot @ Bali
Pura Tanah Lot
Another majestic rock formation that lays as a foundation of a popular pilgrimage temple. It is most popular for its serenity and cultural significance as it is associated with the Balinese mythology as one of the seven temples that form a ring in the southwest of Bali. Try to go there during low tide so that you can experience walking across the water to the temple for the full experience.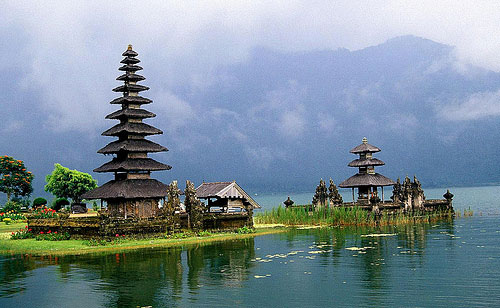 Pura Ulun Danu Bratan (Bali's temple by the lake)
This is the famous temple by the lake in Bali, where instead of like the rest perching on the cliff rock, this one is serenely resting at the edge of Lake Bratan. Imagine beautifully structured temple with double the beauty due to reflections of the clear lake.
Paddy rice fields @ Ubud, Bali
Dolphin sightings at Lovina
One of the best place in the world to do dolphin sighting boat trip. You will leave the beach at dawn to seek for the dolphins, though yes it may be quite crowded with other tourists trying to do the same especially during peak season, it is still well worth it when you find a school of dolphins happily jumping by. Lovina itself have a number of other attractions and activities itself, and boasts itself some backpacker scene where you can chill out in cafes and with live musics.
Lady selling flowers at the Market @ Ubud, Bali
Ubud
Yes despite that one might be trying to escape the eat, pray, love trail, Ubud is one place you cannot miss. It is still the heart of Bali, where all the action is and all the people and energy are focused on. Ubud is packed and condensed with the best of Bali, ranging from nature, culture and people, temples, museums, rolling rice/paddy fields and man-made gardens and parks. You may take a interesting bike tour around here or take up cooking, adventure activities like whitewater rafting and other outdoor activities, relax yourself with yoga and meditation or have some pampering of spas and massages and also enjoy arts and theatres and not to forget shopping. Just so you see Ubud have a little bit of everything for almost everyone.
Party @ Kuta Beach, Bali
Party at Kuta Beach
Kuta is the most popular beach in Bali, which means you can be sure to find the life and party scene here in Kuta Beach. Head here if you are looking out to socialize, party and have a good time. You be sure to find a range of places for different atmosphere and budget, ranging from Hard Rock cafe to your neighborhood cafe and pub.
Private Beach @ Nusa Dua, Bali
Private beach at Nusa Dua Beach
If you have a bit more of a budget to spare, splurge at Nusa Dua beach, where it is dotted with higher end hotels. You will be rewarded with private pristine beaches for you to slowly soak in the sun and the sea. Also ideal for honeymooners or people looking out for a private and relaxing getaway.
Hike Mount Batur @ Kintamani, Bali
Hike/Climb Mount Batur at Kintamani
Up in a highland in East of Bali, there lies Mount Batur caldera in Kintamani. A climb to the summit (1700 meters) of this active volcano is a great experience for any active travelers. Many would do the sunrise hike for an ultimate experience, starting from as early as 4am to reach in time for 6am sunrise. This hike is relatively easy and the treks are quite well marked. From the peak of the mountain, there are views in all direction to sweep you off your feet, not literally of course.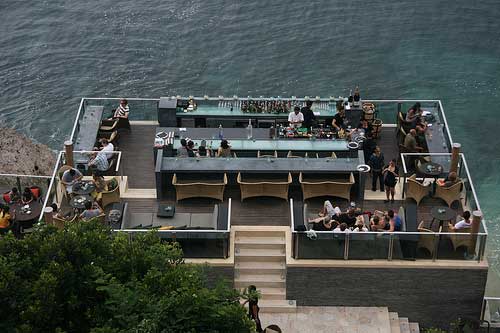 Bar on rocks @ Ayana, Bali
We have two temples on the cliff, now we get to drink off the bar perched on yet another cliff at Ayana in Bali. This is known as the best bar in Bali, having a long line of people daily trying to get in and have a drink or two with some bites (which is surprisingly good) while overlooking the sea crashing into the rocks below. Think about drinking, chilling and also dancing atop a cliff with the roaring sea stretching behind you to infinity while you watch white water crashed onto the side of the wall creating a spectacular of natural show. If you decide where is one bar you must go to, Ayana bar on the rocks is the place.
Coffee plantation at Bali Pulina Agro Tourism
Coffee roasting @ Agro Plantation, Bali
An almost zen place for you to sit back and really appreciate your cup of coffee while overlooking the coffee plantation as far as the eye can see. Here you are served with various coffee and tea for tasting. You can also see the process of how the famous and expensive Kopi Luwak are made and even the civet cats themselves. If you are a coffee lover, do come check this place out for the ultimate coffee experience. So you have it, ten reasons to visit Bali and these are just the highlights. Now you know the reason behind Bali's popularity, so maybe people can just be right sometimes. Come over with an open heart and open arms, huge ounce of patience and tolerance for crowd, close an eye to all the touristy things glaring at you and just enjoy yourself here. If all else fail, you can always jump on the next available fast boat and escape to Gili Islands or Lombok!